BASICS
Name: Azami Takishima. (Ah-Za-ME, Tah-Kah-SHE-Ma.)
Age: 17.
Clan: None.
APPEARANCE
Hair: Her long hair is a Greenish-Aqua Blue. Aza's hair is straight, with a slight curl at the ends. Her bangs are side-swept above her eyes.
Eyes: A Dark Green.
Height: 5'6"
Clothes: She mainly wears the school uniform, but occasionally she change her style for casual wear.
Picture: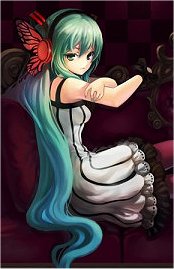 CHARACTERISTICS
Personality: Aza can be pretty bold. She also has a wall up, hardly letting anyone past her barrier. Aza wouldn't talk to you unless there was something about you that interested her.
However, when you get to know Aza, she is very polite and elegant.
Personal Strengths: Her forcefulness.
Personal Weaknesses: Her determination.
Likes: Her Sketchpad, Boys, Peacefulness, Her Parents, and Her Grades.
Dislikes: Jerks, Fighting, Not Living up to her Parent's expectations.
Brief History:
Azami Takishima was born to a rich family.
Aza's parents are very strict and expect Azami to succeed is almost everything. They put Azami in the Hoshigaki High School's Elite Classes. And she is now ranked Number 2 in her grade, right behind Darren Kururugi.
Her parents also believe Aza can do anything if she just focuses, even putting her in extra classes so she can excel.
Aza's life is usually very busy, with her Eite Classes, extra circular activities, 'lady classes', and family business.
Even with all this stuff, Aza is lonely and immensely overworked, so much expected from her.
When she is alone, she likes to draw her surroundings in her most prized possesion, her sketchpad. She's an excellent drawer, even though no one seems to notice. Aza will draw anything that inspires her, sometimes even randomly going out of her home, going to school, and just drawing what she sees along the way.
Many people think Aza is spoiled, only looking at her parent's record, but that is completely wrong. Aza appreciates everything, caring about all the things big or small.
She also, however, as a wall built up around her.
Aza has been alone from all long as she can remember. But she is also the type that breaks wall, climbing over them, understanding.
She'll find you when no one else is looking, knowing just where you'll be.

Sia Azami.

Admin





Posts

: 29


Join date

: 2010-10-02



Fully accepted into this plainley written forum. Thanks for posting.


---
Permissions in this forum:
You
cannot
reply to topics in this forum